Orange Pops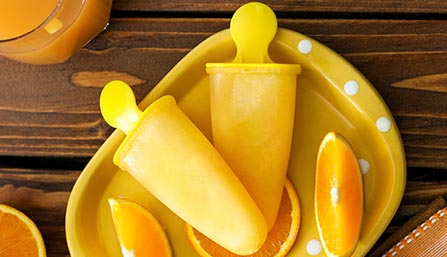 Makes: 8 pops

Total Time:
Ingredients:
2 8 fl oz bottles/2 cups PediaSure SideKicks® Vanilla Shake, chilled
1 envelope Dream Whip® whipped topping mix
1 package vanilla instant pudding
1/2 cup frozen orange juice concentrate
Directions:
Combine 1/2 cup PediaSure SideKicks Vanilla Shake and the package of Dream Whip in a bowl. Beat on high speed using an electric mixer for about 4 minutes or until topping thickens and forms peaks. Set aside. In a separate bowl, combine the remaining PediaSure SideKicks Vanilla Shake and the pudding mix. Beat on the lowest speed of the mixer until well blended, about 1 minute. Blend the whipped topping mixture and the orange juice concentrate with the pudding mixture. Spoon mixture into eight popsicle molds. Freeze until firm, about 4 hours.
Dream Whip is not a registered trademark of Abbott Laboratories.
Can be made with:
PediaSure SideKicks Vanilla Shake