Fruit Snack Bars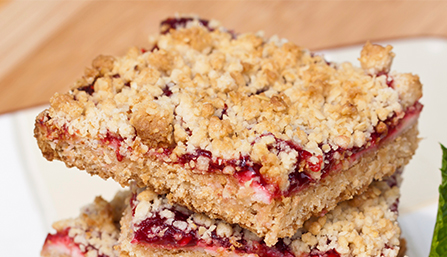 Makes: 10 bars (one 8" x 8" pan)

Total Time:
Filling:
1 scoop PediaSure SideKicks® Fruit & Veggie Smoothie Mix
1/3 cup strawberry preserves or fruit spread
1/4 cup dried sour cherries, cranberries, golden raisins or dates, finely chopped
Crust:
3/4 cup whole wheat flour
3/4 cup all‐purpose flour
1/2 cup instant oats
1/4 cup wheat bran
1/4 tsp. salt
1/2 cup light brown sugar
10 Tbsp. unsalted butter, melted
Directions:
Preheat oven to 350°F. Lightly grease an 8 x 8 inch pan. Line pan with foil and lightly grease the foil. Set aside.
In a small mixing bowl, combine PediaSure SideKicks Fruit & Veggie Smoothie Mix, preserves, and dried cherries. Mix well and set aside.
Combine all crust ingredients in a mixing bowl. With clean hands, mix all ingredients together until it resembles coarse meal. Place two thirds of the mixture into the bottom of the prepared pan and firmly press it into the bottom of the pan to form a crust. Spoon the fruit filling over the crust and spread into an even layer. Sprinkle the remaining third of crust mixture on top of fruit filling layer.
Can be made with:
PediaSure SideKicks Fruit & Veggie Smoothie Mix