What's on a nutrition label?
There are two sections to the nutrition information on food labels: the Nutrient Information and the Ingredient List. It's important to note that the nutrient amounts listed on a nutrition label indicate the amount in 1 serving, not the total amount in the container (unless specified). To determine the total calories in the whole package, multiply the calories per serving by the total number of servings.
The percent daily values (DV's) listed on the nutrition facts panel help you determine how much of a nutrient the product provides in one serving based on a suggested total daily intake. The DV percentage represents the amount of each nutrient one should have in a day based on a 2000-calorie diet. Your child may need to eat fewer calories in a day, so keep this in mind and consult your pediatrician for your child's needs.
The Nutrition Facts Panel
Serving:

Tells you the number of ounces, grams, or milliliters in each serving,
and the number of servings per container.

Calories:

Shows the number of calories in one serving and how many
of those calories come from fat.

Highlighted Nutrients:

Provides the amount of the nutrient in each serving, which
includes fat, cholesterol, sodium, carbohydrate, fiber, sugar,
and protein. Existing Percent DV's can be found to the right
of the nutrients in this section.

Vitamins & Minerals:

Shows what percentage of the recommended daily value of vitamins and minerals are in each serving.

Daily Values:

Explains the percentage of Recommended Daily Values each
nutrient provides.

Ingredient List:

Appears below the Nutrition Facts Panel and lists all
ingredients in the product in order by weight, with the
heaviest ingredients coming first. Ingredients are what
supply the nutrients and provide other product attributes
such as texture, etc.

Check out PediaSure products, which contain essential
vitamins and minerals to help promote child growth and development.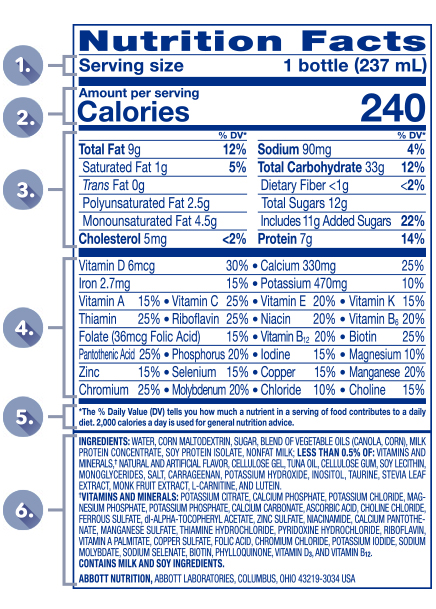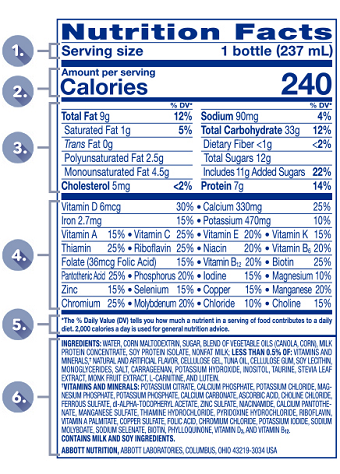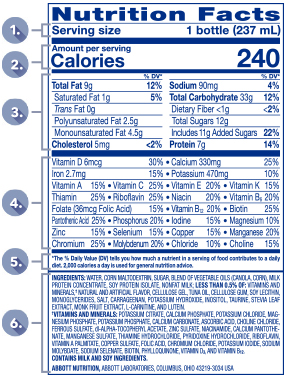 Source: www.nhlbi.nih.gov/health/educational/wecan/eat-right/nutrition-facts.htm. Accessed 08/06/15.