Roasted Broccoli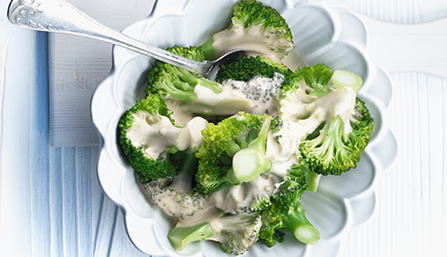 Makes: 4 servings

Total Time:
Ingredients:
2 heads broccoli
2 Tbsp. olive oil
1 clove chopped garlic
Kosher salt and freshly ground black pepper
3 Tbsp. grated Parmesan
Directions:
Preheat oven to 400°F. Peel the outer layer of the broccoli stalks. Cut the broccoli lengthwise, keeping the stalk and broccoli florets intact. (The long broccoli spears should resemble trees.) Place the broccoli and garlic in a bowl, drizzle with the olive oil, and season with salt and pepper to taste.
Arrange the broccoli in a single layer on a baking sheet, with the flat side resting on the pan. Toss to coat and roast until nicely caramelized, about 12 minutes. Turn broccoli over and sprinkle with grated Parmesan. Cook until the Parmesan melts, about 3 minutes. Transfer to a serving bowl or platter and serve immediately.