Cheese and Meat Stuffed Manicotti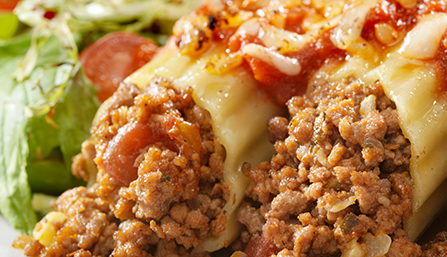 Makes: 6 servings

Total Time:
Ingredients:
1 (8 oz) package manicotti shells
1 lb. ground beef
1/2 cup chopped onion
1 (26 oz) jar spaghetti sauce
14 sticks of string cheese
2 cups shredded mozzarella cheese
Directions:
Prepare manicotti shells according to directions. Drain well and set aside. Meanwhile cook beef and onion over medium heat until well done. Drain fat. Combine meat and onion with spaghetti sauce. Set aside.
Spread 1/3 of meat and spaghetti sauce in the bottom of a 13" X 9" glass dish. Cut each manicotti horizontally. Place 1 stick of string cheese and 1 spoonful of meat and sauce on each shell. Roll pasta shells and place in glass dish. Top with remaining meat and spaghetti sauce.
Cover and bake at 350 degrees for 25 to 30 minutes. Sprinkle with shredded Mozzarella cheese and bake an additional 10 minutes or until cheese is melted.