Chunky Guacamole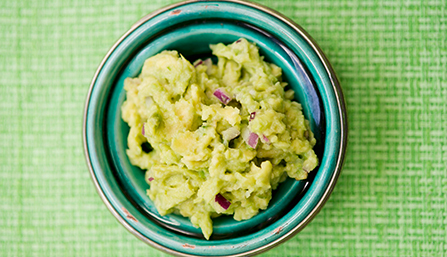 Makes: 4 servings

Total Time:
Ingredients:
2 fresh avocados
1 tomato, diced
1/4 red onion, minced (about 1/4 cup)
1 can cooked, drained black beans
2 Tbsp. cilantro leaves, finely chopped
1 Tbsp. fresh lime juice
1/4 tsp. garlic powder
Salt to taste
Directions:
Cut avocados in half and remove the seed. Scoop out avocado from peel, and place in a medium mixing bowl. Using a fork, mash avocado. Add onion, black beans, cilantro, lime juice, garlic powder, and salt. Add tomatoes just before serving.
Tip: To store your guacamole, cover container with plastic wrap, ensuring that the plastic sits directly on the surface of the guacamole. Refrigerate when not in use.