Mini Cheesecake Tarts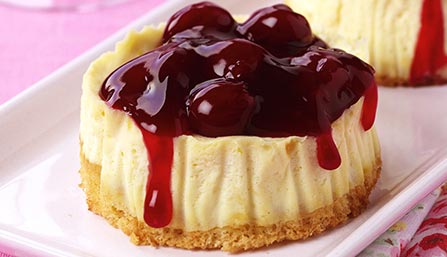 Makes: 12 Servings

Total Time:
Prep Time: 20 minutes
Refrigeration Time: 4 hours
Ingredients:
1 8 fl oz bottle/1 cup PediaSure® Grow and Gain Vanilla
1 package cream cheese, softened
1/2 can sweetened condensed milk
1/3 cup lemon juice
1 tsp. vanilla extract
1-1/2 cups graham cracker crumbs
3 Tbsp. non-salted butter, melted
2 cups fresh berries or cherries for topping
Directions:
Line a 12-count muffin tray with paper liners. In a bowl, mix together graham cracker crumbs and butter until combined. Scoop a heaping tablespoon into the bottom of each muffin liner, using the back of the tablespoon to press down into cup to form the crust. Set aside. In a large bowl, beat cream cheese until fluffy. Gradually beat in sweetened condensed milk and the PediaSure Grow and Gain Vanilla until smooth. Stir in lemon juice and vanilla. Pour the cheese mixture into muffin liners over the crust, dividing evenly. Refrigerate 4 hours or until set. Top with fresh berries before serving.
Tips:
For a lower fat option, substitute the sweetened condensed milk and cream cheese for the light versions
Short on time? You can make this cheesecake in a 9-inch prepared graham cracker pie crust
Can be made with:
PediaSure Grow & Gain Vanilla