Pear and Celery Salad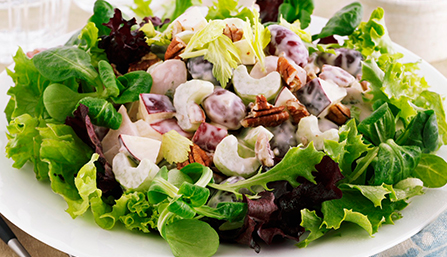 Makes: 6 servings (1 cup each)

Total Time:
Ingredients:
4 stalks celery, trimmed and sliced
2 Tbsp. cider, pear, raspberry, or other fruit vinegar.
2 Tbsp. honey
1/4 tsp. salt
2 ripe pears, diced
1 cup finely diced white cheddar cheese
1/2 cup chopped pecans, toasted
Ground pepper to taste
6 large lettuce leaves
Directions:
Soak celery in a bowl of ice water for 15 minutes. Drain and pat dry. Cut into 1/2-inch pieces. Whisk vinegar, honey, and salt in a large bowl until blended. Add pears; gently stir to coat. Add celery and cheese; stir to combine. Season with pepper. Divide the lettuce leaves among 6 plates and top with a portion of salad. Serve at room temperature or chilled. Stir in pecans just before serving.