Overnight Power Oatmeal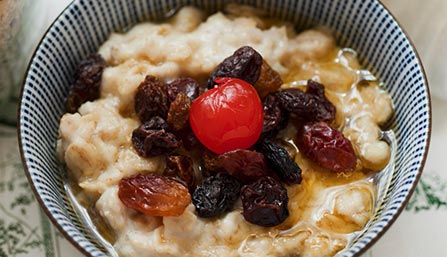 Makes: 2 servings

Total Time:
Ingredients:
1 8 fl oz bottle / 1 cup PediaSure® Grow and Gain Vanilla
3/4 cup old-fashioned oats
2 Tbsp. dried cranberries
2 Tbsp. dried raisins
1/4 cup mixed nuts (crushed almonds & walnuts)
1 Tbsp. honey
Directions:
Mix together oats, nuts, and dried fruit in a sealable container. Pour PediaSure Grow & Gain Vanilla over mixture and stir with a spoon. Cover and refrigerate overnight. The mixture will soak up the PediaSure. The next morning, drizzle the honey and serve cold.
Tips
Substitute for your favorite nuts, dried fruit, or syrup
Get a head start all week! Fill some Mason jars or reusable containers with mixture or dry ingredients. When ready, just add PediaSure Grow & Gain Vanilla and refrigerate the night before serving.
Can be made with:
PediaSure Grow and Gain Vanilla