Chocolate Carrot Cupcakes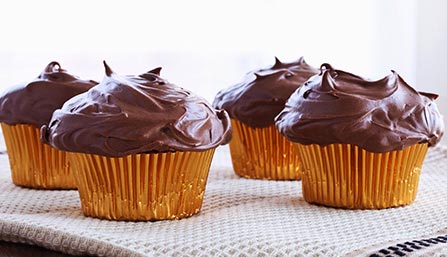 Makes: 12 cupcakes, 1 cup icing

Total Time:
Prep Time: 30 minutes
Refrigeration Time: 2 hours
Ingredients:
1 8 fl oz bottle / 1 cup PediaSure® Grow and Gain Chocolate
1 cup all-purpose flour
1/3 cup unsweetened cocoa powder
1 tsp. baking powder
1/2 tsp. baking soda
1/2 tsp. cinnamon
1/2 tsp. nutmeg
1/4 tsp. ground cloves
1/4 tsp. salt
2 large eggs
1/2 cup packed brown sugar
1/4 cup vegetable oil
1/4 cup unsweetened applesauce
1-1/2 cups grated carrot ( approx. 3 large)
Directions:
Cupcakes
Pre-heat oven to 350°F. Line a 12-count muffin tray with paper liners. Set aside. Sift together flour and cocoa into a large bowl. Add all remaining dry ingredients (baking powder, baking soda, spices, and salt) and mix together until combined.
In a separate bowl, whisk together eggs, brown sugar, oil, applesauce, and PediaSure Grow and Gain Chocolate until smooth. Using a spatula, scrape wet mixture over dry ingredients. Add carrots and stir everything together until homogeneous making sure not to over mix. Spoon batter into muffin cups, dividing batter equally. Bake for 25-30 minutes until toothpick inserted into the middle of the cupcake comes out clean. Cool completely before icing.
Icing
Place chocolate chips and PediaSure Grow and Gain Chocolate into a small saucepan over low heat and stir until melted. Remove from heat and add butter. Stir until melted and smooth. Transfer to bowl and refrigerate 2 hours or until firm.
Can be made with:
PediaSure Grow & Gain Chocolate