Green Beans with Pine Nuts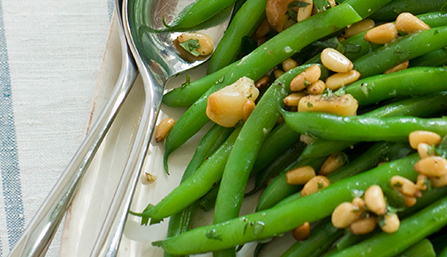 Makes: 4 servings (1 cup each)

Total Time:
Ingredients:
1 oz pine nuts
1-1/2 lbs. green beans, trimmed
2 Tbsp. lemon juice
Salt and ground pepper to taste
Directions:
Preheat oven to 375°F. Toast pine nuts in a shallow baking pan in oven for 3 to 5 minutes, shaking pan frequently. Place green beans in a steamer basket over boiling water. Cover saucepan and steam 7 to 8 minutes or until tender. Transfer green beans to a serving bowl. Toss with lemon juice, pine nuts, and salt and pepper to taste.