Veggie Lasagna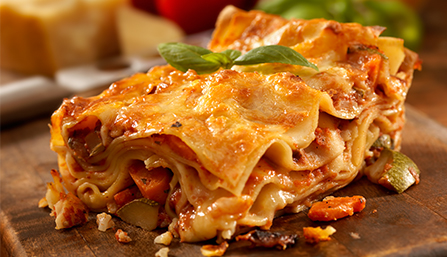 Makes: 6 servings

Total Time:
(1 hour 20 minutes)
Ingredients:
6 hot cooked lasagna noodles (about 6 oz uncooked), cut in half
1 tsp. olive oil
3/4 cup sliced mushrooms
3/4 cup chopped zucchini
1/2 cup sliced carrot
1/2 cup chopped red bell pepper
1/2 cup thinly sliced red onion
1 (26 oz) bottle fat-free tomato-basil pasta sauce
2 Tbsp. commercial pesto
1 (15 oz) carton part-skim ricotta cheese
Cooking spray
3/4 cup (3 oz) shredded part-skim mozzarella cheese
Directions:
Preheat oven to 375°. Cook lasagna noodles as directed on package. Heat oil in a medium saucepan over medium heat. Add mushrooms, zucchini, carrot, bell pepper, and onion; cook for 5 minutes, stirring frequently. Add pasta sauce and bring to a boil. Reduce heat, and simmer 10 minutes.
Combine pesto and ricotta in a small bowl. Spread 1/2 cup tomato mixture in the bottom of an 8-inch square baking dish coated with cooking spray. Arrange 4 noodle halves over tomato mixture. Top noodles with half of ricotta mixture and 1 cup tomato mixture. Repeat layers, ending with noodles. Spread remaining tomato mixture over noodles; sprinkle with mozzarella.
Cover and bake at 375° for 30 minutes. Uncover and bake an additional 20 minutes. Let stand 10 minutes.