No-bake Energy Bites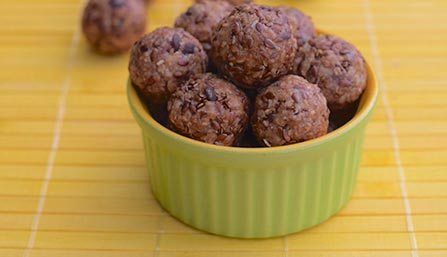 Makes: 30

Total Time:
Ingredients:
1/2 8 fl oz bottle/1/2 cup PediaSure® Grow and Gain Vanilla
1 cup smooth, natural peanut butter
1/2 cup honey or maple syrup
1/2 cup unsweetened cocoa powder
1 cup quick-cooking oats
3 cups puffed rice cereal
1 cup chopped, mixed dried fruit (such as apricots, dates, cranberries, raisins)
1 cup mixed chopped nuts and seeds (such as walnuts, cashews, pecans, hazelnuts, almonds, pumpkin, sunflower, and flax seeds)
1/4 cup ground almonds
Directions:
In a large bowl, mix together the oats, cereal, dried fruit, nuts, and seeds. In a small saucepan, combine the cocoa, peanut butter, and honey over medium heat until combined. Remove from heat and whisk in the PediaSure Grow & Gain Vanilla until a smooth texture is obtained.
Pour the mixture over the dry ingredients and stir until well combined. Set aside until cool enough to handle then shape into balls about the size of an apricot. Place and store in sealed container and refrigerate.
Can be made with:
PediaSure Grow & Gain Vanilla