Carrot Ginger Soup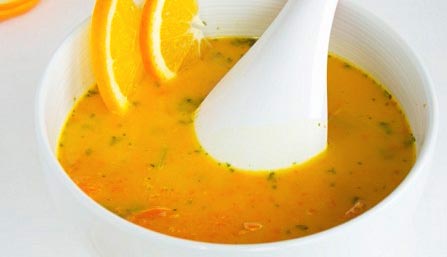 Makes: 4 Servings

Total Time:
Ingredients:
2 8 fl oz bottle / 2 cups PediaSure® Grow and Gain Vanilla
1 lb. carrots
1 large sweet potato
1 Tbsp. butter
1 large onion, chopped
1 cup chicken or vegetable broth
1 cup water
1 Tbsp. peeled and chopped ginger root
1 tsp. grated orange peel
1/2 tsp. ground black pepper
Directions:
Wash, peel, and cut carrots and sweet potato. Set aside. In a large saucepan over medium heat, melt butter and cook onions until tender but not brown. Add vegetables, broth, water, ginger, orange peel, and pepper. Bring to boil, and simmer until vegetables are tender, approximately 30 minutes. Remove from heat and blend soup using a hand blender (or transfer to a blender and return to saucepan). Mix PediaSure Grow & Gain Vanilla into the soup and stir until combined. Do not boil.
Tip:
In a rush? Use frozen or pre-cut vegetables to save time
Can be made with:
PediaSure Grow & Gain Vanilla