Hearty Lentil Casserole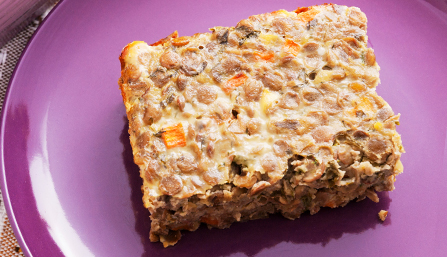 Makes: 8 servings

Total Time:
(1 hour 15 minutes)
Ingredients:
3 cups water
1 large onion, finely sliced
4 medium carrots, grated
3 leeks, sliced
2 garlic cloves, peeled and crushed
1 sweet potato, peeled and cubed into small pieces
1 (1 inch) piece of fresh ginger root, grated
1 tsp. cumin
2 Tbsp. olive oil
8 oz split red lentils
5 cups hot vegetable stock
Fresh chopped parsley
Directions:
Wash and prepare the vegetables, and then set aside. In a large pan, bring lentils and water to a boil over high heat. Cook for 10 minutes. Drain and return lentils to pan. Add vegetable stock, sweet potatoes, and grated carrots to lentils. Reduce heat and simmer for approximately 40 minutes.
Meanwhile, heat the olive oil in a nonstick frying pan. Sauté onions and leeks for approximately 5 minutes. Add garlic, ginger, and cumin, and sauté for another minute.
Add garlic mixture to the lentils approximately 10 minutes before the lentils are cooked through. Garnish with fresh parsley and serve.