Quinoa with Pine Nuts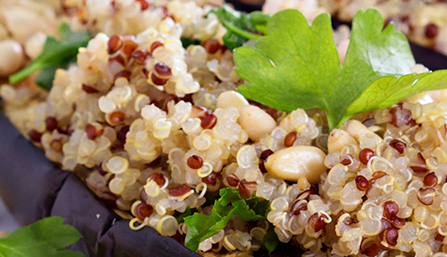 Makes: 6 servings

Total Time:
Ingredients:
1-1/4 cup broth
1 cup quinoa, rinsed
1/4 cup pine nuts
1 Tbsp. olive oil
1/2 large onion, chopped
1/3 cup chopped fresh parsley leaves
Salt and pepper to taste
Directions:
Put the broth and quinoa in a medium-sized saucepan, and bring to a boil. Reduce heat to a simmer. Cover and cook for 15 to 20 minutes, until liquid is absorbed and grain is tender.
Toast nuts in a large skillet over medium-high heat for 2 minutes (or until golden brown), stirring frequently. Remove nuts from pan and set aside. Heat oil in the same skillet over medium-high heat. Add onions and cook for 6 minutes, until the onions soften and begin to brown.
When the quinoa is done, fluff with a fork and transfer to a large serving bowl. Stir in the pine nuts, onions, and parsley. Season with salt and pepper and serve.