Cheddar Cheese Cornbread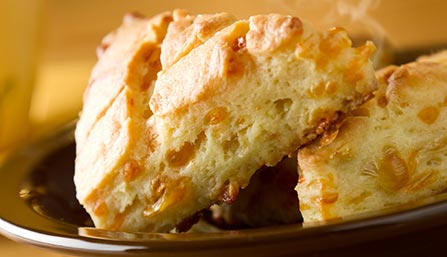 Makes: 10 pieces

Total Time:
Baking Time: 22 minutes
Ingredients:
1/3 cup PediaSure® Grow & Gain Shake Mix Powder
1 cup all-purpose flour
3/4 cup yellow corn meal
2 tsp. baking powder
1/4 tsp. salt
2 Tbsp. sugar
1 cup 1% low fat or fat free milk
1 large egg
4 Tbsp. vegetable oil
1/2 cup cooked corn kernels (if using frozen, thaw, drain well, and pat dry with paper towels)
1 cup cheddar cheese, divided
Directions:
Preheat oven to 425°F. Lightly oil bottom and sides of an 8 x 8-inch square baking pan. Set aside. In a large mixing bowl, whisk together PediaSure Grow & Gain Shake Mix Powder, flour, corn meal, baking powder, and salt. (Recipe will not work if PediaSure Shake Liquid is used.) In a small mixing bowl, whisk together milk, egg, and oil. Add milk mixture to dry mixture and stir just until combined. Add corn kernels and 3/4 cup cheese and gently fold into mixture. Pour mixture into pan and scatter remaining cheese on top. Bake 20 to 22 minutes or until a toothpick inserted into center of bread comes out clean. Cool slightly and cut into pieces. Cool completely and store any remaining bread in an airtight container.
Kid-Friendly Steps:
Oiling pan
Whisking dry ingredients
Whisking wet ingredients
Folding in corn and cheese
Can be made with:
PediaSure Grow & Gain Shake Mix Powder