Guacamole Chicken Wraps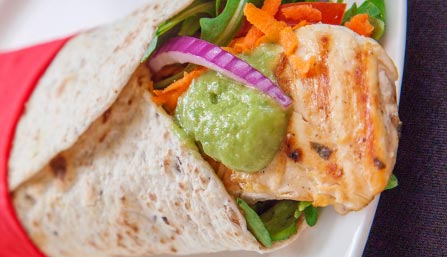 Makes: 4 wraps

Total Time:
Ingredients:
2 Tbsp. fresh lime juice
1/4 tsp. salt
1 ripe peeled avocado
1/2 cup chopped seeded plum tomato
4 lettuce leaves
4 (8-inch) whole wheat flour tortillas
2 cups grilled, boneless, skinless chicken breast (about 8 oz)
Directions:
Place lime juice, salt, and avocado in a medium bowl; mash with a fork until smooth. Stir in tomato.
Place 1 lettuce leaf on each tortilla; spread about 1/4 cup avocado mixture on each lettuce leaf. Top each serving with 1/2 cup grilled chicken. Roll up. Wrap in foil or parchment paper; chill.