Hamburger-Potato Casserole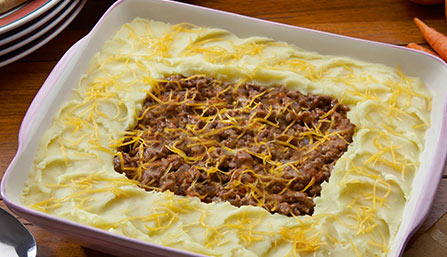 Makes: 6 servings

Total Time:
Ingredients:
1 lb. lean ground beef
1 bag frozen mashed potatoes
1 can green beans
8 oz low fat shredded cheese
Directions:
Cook ground beef on stovetop until well done. Microwave mashed potatoes as indicated on package. Make sure to save some mashed potatoes to add to the top.
Preheat oven to 350°F. Place layer of mashed potatoes, green beans, cooked beef, and cheese on the bottom of casserole dish. Spoon the remaining mashed potatoes around outer edges on top. Sprinkle cheese on top of mashed potatoes. Bake for 30 minutes until cheese is melted.