Spicy Sweet Potato Fries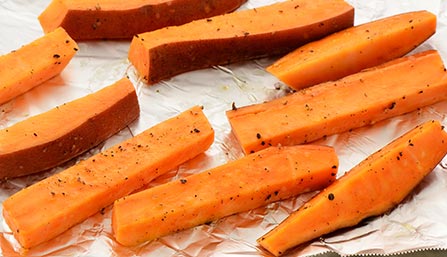 Makes: 4 servings

Total Time:
Ingredients:
2 large sweet potatoes, peeled and cut lengthwise into 1/4-inch to 1/2-inch sticks
1/2 tsp. salt
1 Tbsp. cooking spray
1 Tbsp. Cajun spice (or seasoned salt if Cajun is too spicy for the kids)
1 tsp. cinnamon
Directions:
Carefully place sweet potato sticks in a colander and rinse under cold water. This washes away surface sugars and will help make the fries crisp.
Place sweet potato sticks in a large pot. Add enough cold water to just cover potatoes. Add salt. Bring water to a boil over high heat. Reduce heat to medium and boil for 3 minutes. Gently drain sweet potatoes and spread them on paper towels to dry (they can sit for up to an hour before roasting).
Cover 2 large baking sheets with foil and lightly spray with cooking spray. Place sweet potatoes on prepared baking sheet and add oil and Cajun spice. Gently toss to coat the sweet potatoes, being careful not to break the sticks. Arrange on the sheet, leaving at least 1/4 inch between them, so they crisp on all sides.
Roast for 15 minutes in a 425°F oven. Turn the fries over, and roast for another 6 to 8 minutes or until fries are nicely browned and crisp. Remove from oven and season with cinnamon while they are still hot. Serve.