Whole Wheat Cheese Biscuits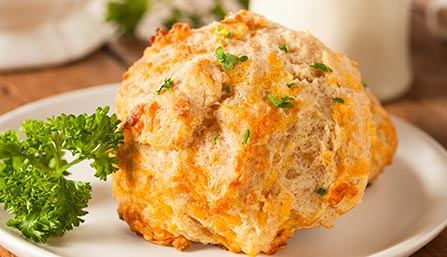 Makes: 25 biscuits

Total Time:
Ingredients:
2 cups whole wheat flour
4 tsp. baking powder
1 Tbsp. sugar
3/4 tsp. salt
1/2 tsp. garlic powder
1/4 cup butter or margarine
1 cup milk
3/4 cup grated low-fat cheddar cheese
Directions:
Combine flour, baking powder, sugar, salt, and garlic powder in a medium bowl. Cut butter into squares and combine until mixture resembles coarse crumbs. Stir in milk. Add cheese and mix lightly. Place dough on a lightly floured surface and knead gently 8 to 10 times. Roll to 3/4-inch thickness; cut with a 2-1/2-inch biscuit cutter and place on an ungreased baking sheet. Bake at 450°F for 10 to 12 minutes or until lightly browned. Serve warm.