Ziti with Ricotta and Veggies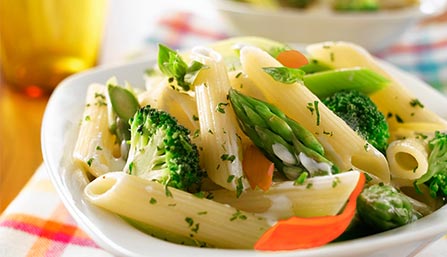 Makes: 4 servings

Total Time:
Ingredients:
8 oz dried ziti or penne pasta
2-1/2 cups broccoli florets
1-1/2 cups asparagus or green beans cut into 1-inch pieces
2 large ripe tomatoes
1 cup light ricotta cheese
1/4 cup snipped fresh basil or 1 Tbsp. dried basil, crushed
4 tsp. snipped fresh thyme or 1 tsp. dried thyme, crushed
4 tsp. balsamic vinegar
1 Tbsp. olive oil
1 clove garlic, minced
1/2 tsp. salt
1/2 tsp. freshly ground black pepper
2 Tbsp. grated Parmesan or Romano cheese
Directions:
Cook pasta according to package directions, omitting any oil or salt and adding broccoli and asparagus or green beans the last 3 minutes of cooking; drain. Meanwhile, place a fine strainer over a large bowl. Cut tomatoes in half; squeeze seeds and juice into strainer. With the back of a spoon, press on seeds to extract juice; discard seeds, reserving tomatoes.
Add ricotta cheese, basil, thyme, vinegar, oil, garlic, salt, and pepper to tomato juice in bowl; mix well. Chop reserved tomatoes and stir into ricotta mixture. Add hot cooked pasta and vegetables to ricotta mixture. Toss to combine.
Sprinkle each serving with Parmesan or Romano cheese and serve immediately.