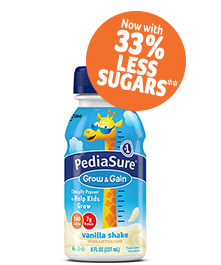 Clinically proven* nutrition to help kids grow
KEY NUTRIENTS
240

Calories

7g

Protein

25

Vitamins & Minerals
FLAVORS
Fiber supports regularity
KEY NUTRIENTS
240

Calories

7g

Protein

25

Vitamins & Minerals

3g

Fiber§
FLAVORS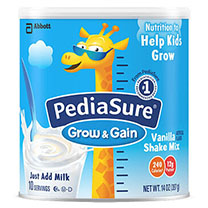 Power up milk to help kids grow
KEY NUTRIENTS
240

Calories||

12g

Protein||

26

Vitamins & Minerals||
FLAVORS
**As compared to previous formulation. See Nutrition Facts panel. Total "sugars" reduced from 18 grams to 12 grams in Vanilla, Berry, Strawberry and Banana, and from 23 grams to 14 grams in Chocolate per 8 fl oz. Calories and total carbohydrates have not changed.
† Natural and artificial flavors.
‡ Artificial flavor.
§ Per 8 fl oz serving, PediaSure with Fiber has 9g total fat.
|| When 1/3 cup powder is mixed with ¾ cup 1% milk